How to easily uninstall your software
Our software is created to meet all our customer's expectations. However, if you are not fully satisfied with your software, please follow the instructions below to fully uninstall it from your computer
WINDOWS 10
Select the Start button

then select Settings and Apps. 

Choose the program you want to delete, and then select Uninstall.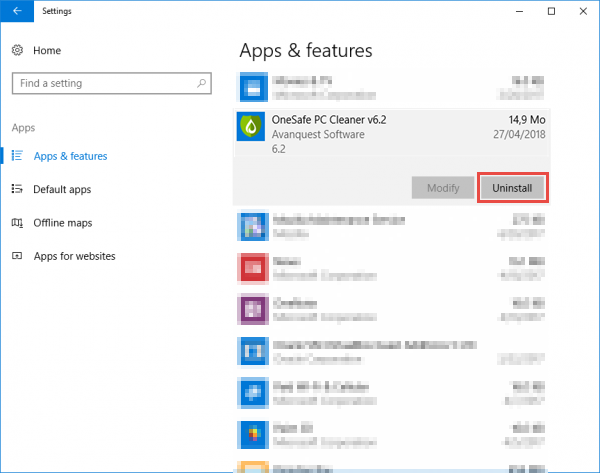 Follow the instructions on your screen.
WINDOWS 8
There are two methods to delete a software in Windows 8 :
METHOD N°1
Right-click on the software on the homepage. A toolbar will appear at the bottom of the screen.
Click on "Uninstall" then « Uninstall » once again to confirm that you want to remove the software.
METHOD N°2
Head to the Start Screen and type "Control Panel". Then click on "Control Panel".
Select Uninstall a program
Then pick the program you want to remove and click "Uninstall"
Windows XP
Click 'Start' (Bottom Left of your screen), move to 'Settings' then click 'Control Panel' and next click:
« Add or Remove Programs »
Find the software you wish to uninstall and click 'Remove'
Windows 7 et Vista
Click 'Start' (Bottom Left of your screen), move to 'Settings' then click 'Control Panel' and next click:
Click 'Start' (Bottom Left of your screen), then click 'Control Panel', next click 'Programs and Features'
Find the software you wish to uninstall and click 'Uninstall'