How to improve Windows startup speeds
Programs are constantly adding themselves to your Windows startup menu so that their applications launch automatically when you start your PC.  The more programs trying to launch automatically, the slower your startup speeds become.   OneSafe PC Cleaner makes it easy for you to review the programs launching atomically at startup and to remove those you don't need.
Where to find the Startup Manager in OneSafe PC Cleaner
There are 2 ways to access the startup manager in OneSafe PC Cleaner
1 – Run the main cleaning scan.  On the results screen, go to the Boost Startup category and click on the Details link.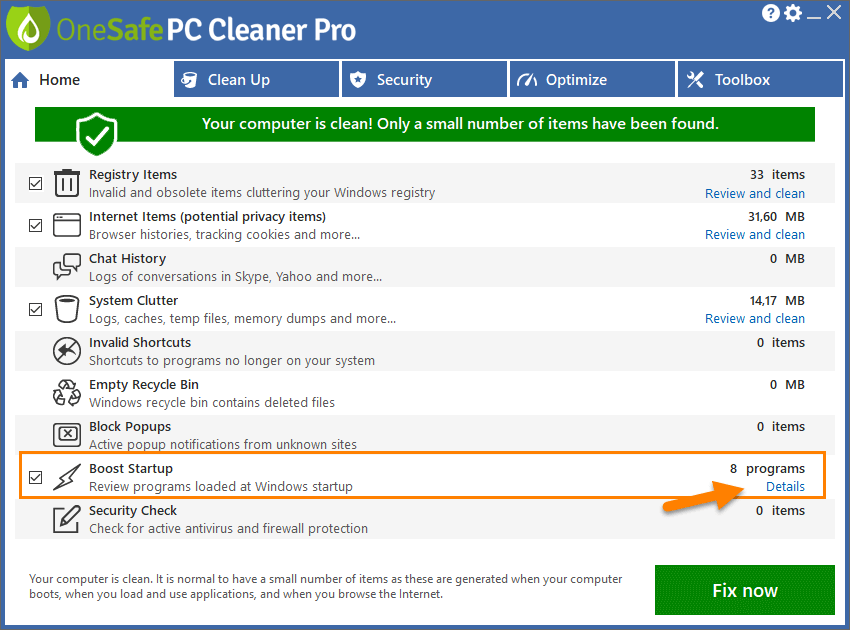 OR
2 – Click on the Clean Up tab.  Select Manage startup.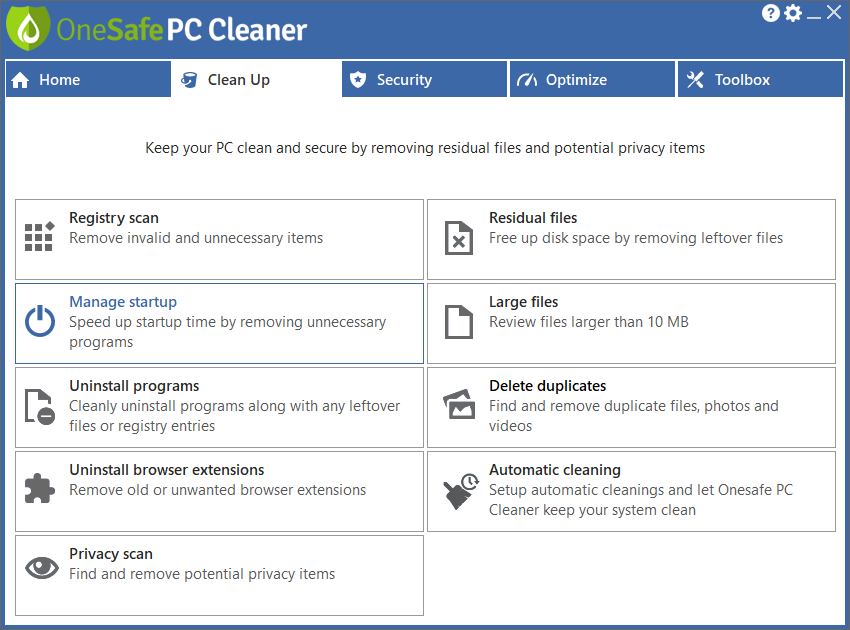 How to use the Startup Manager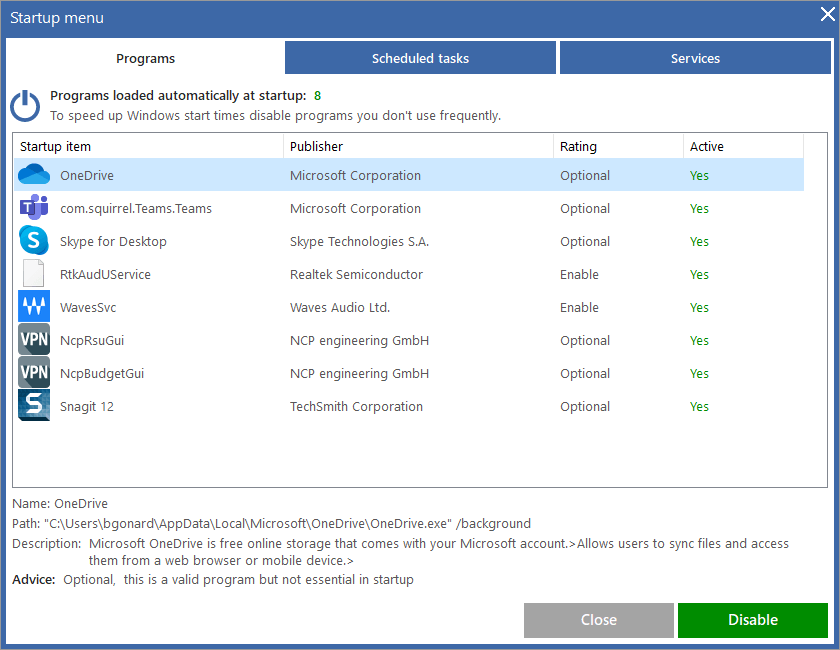 At the top of the screen, you'll see the total number of programs set to launch automatically at startup.  The more programs starting automatically, the slower your startup times will be.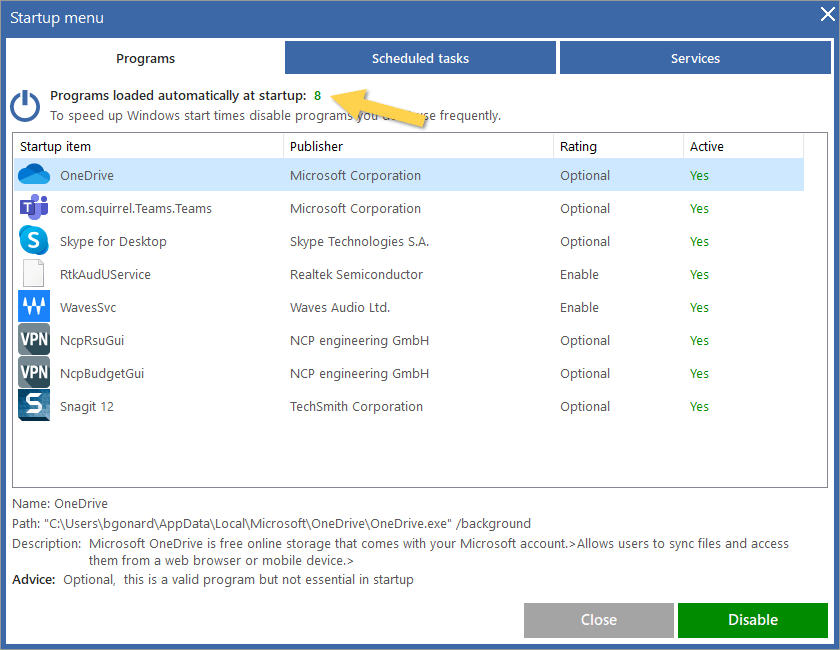 The list of programs in startup provides the following information:
Program name, company, status and advice.
The Advice column is based on feedback from our users and from our own independent research into which programs are necessary, optional or definitely not needed.  The main goal of our advice category is to help you make informed decisions about which programs to keep active and which ones can be safely removed.
Note: If we recommend disabling or deleting a program which you know you use daily, then you choose to keep that program and ignore the advice.
When you select a program from the list additional information about the program is provided at the bottom of your screen.  This is also where you will choose to enable, disable or delete programs.
There are 3 button options.
Enable – keeps the program active in startup
Disable – stops the program from launching but does not fully remove the program from startup.   If you disable a program you have the option to come back later and either delete or to enable it again.
Delete – removes the program from your startup menu.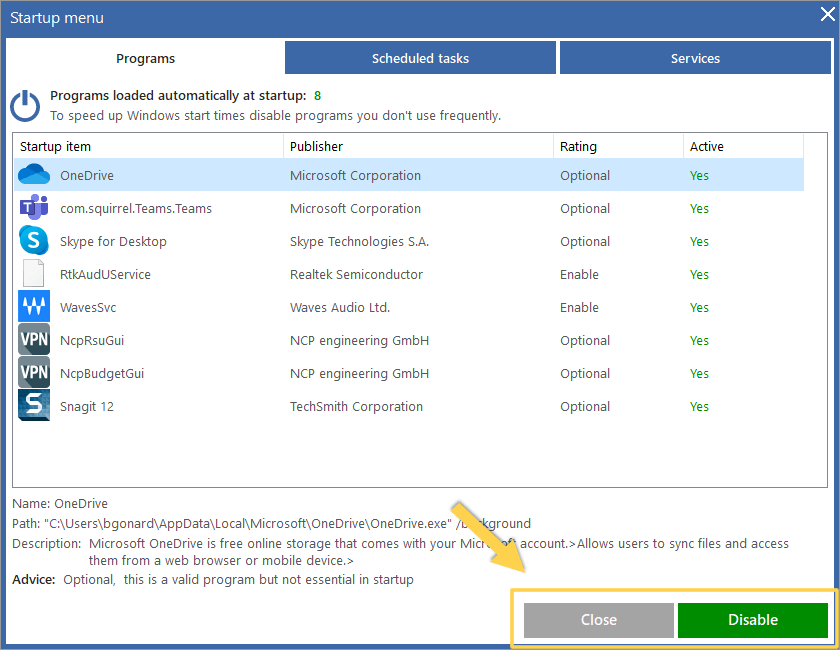 Review the program listed in your startup menu and disable or delete any you know you don't use.
Scheduled tasks
Here you will find a list of all tasks scheduled setup up by programs on your PC to run at various times.   Again, you can choose to disable or delete unnecessary tasks.
Services
Here you will find a list of external Windows services which have been installed on your PC by other programs and applications. Again, you can choose to disable or delete certain services based on the advice provided.
Note: You will see the biggest impact in startup speeds by simply reducing the number of programs in your startup menu.