How to protect your passwords
Are you tired of trying to remember so many different passwords?
Let Safe-Passwords take over.   Safe-Passwords is a secure browser extension and a mobile app that enables you to securely store and access your passwords from anywhere.
Safe-Passwords is included with your OneSafe PC Cleaner subscription.  Why not try it today and see just how easy it is to collect and manage your passwords in one secure account.  Safe-Passwords also includes a secure wallet feature for storing credit cards and a password generator that enables you to  create longer and more secure passwords.
How to get started with a Safe-Passwords account
Open OneSafe PC Cleaner
Click on the Toolbox tab
Select Safe-Passwords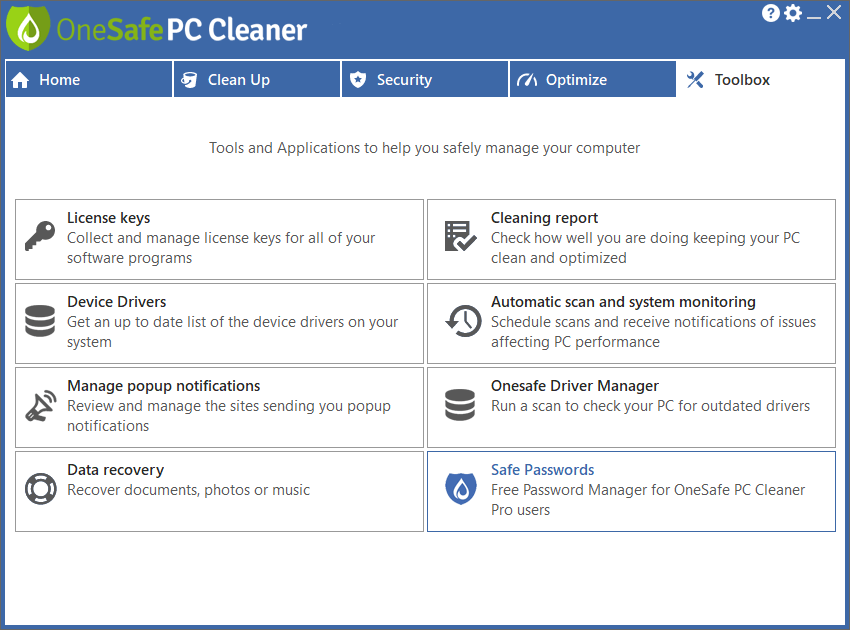 OneSafe will detect your default browser and take you to the install page for either the Safe-Passwords Chrome extension or the Safe-Passwords Firefox extension.
Once the extension has been installed, click on the red shield icon in the top right corner of your browser to start setting up your account.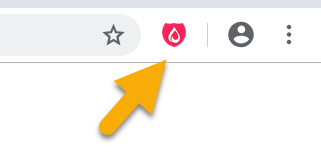 To setup your account enter a user name and password.  This is the last password you have to remember, so try to use a secure password containing at least 1 number, 1 capital, 1 special character and a minimum of 8 letters.
IMPORTANT – Your master password is the key that unlocks the encryption protecting your account.  For security reasons we don't keep a copy of your master password.  The master password is known only to you.  If you forget your master password there will be no way to unlock your account.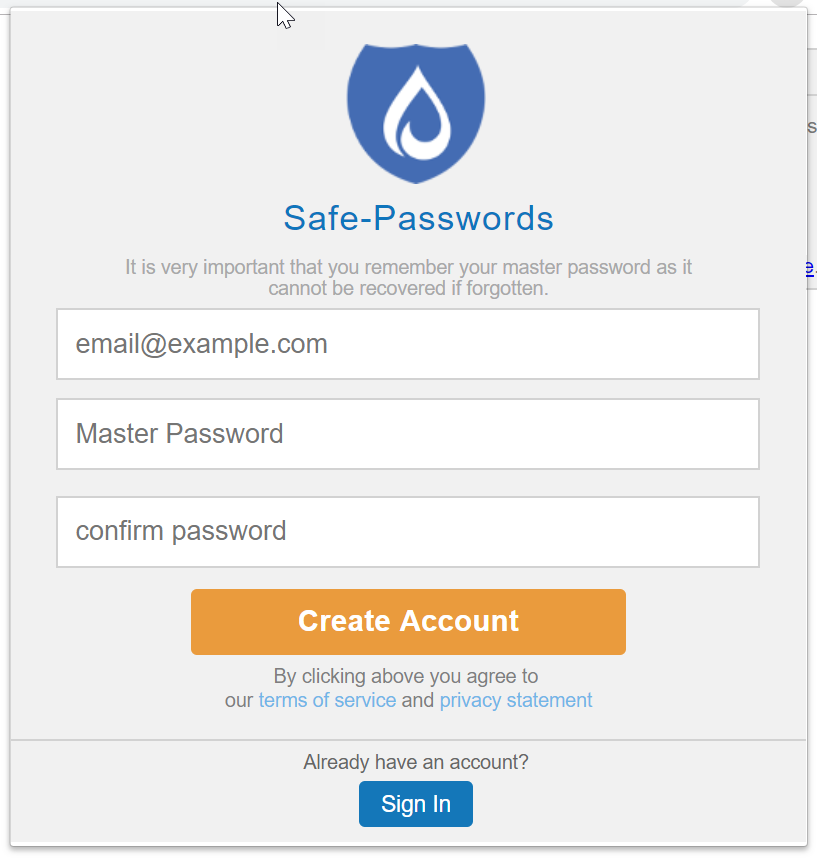 Once you have entered an email and a master password click Create Account
Congratulations you have successfully created an account!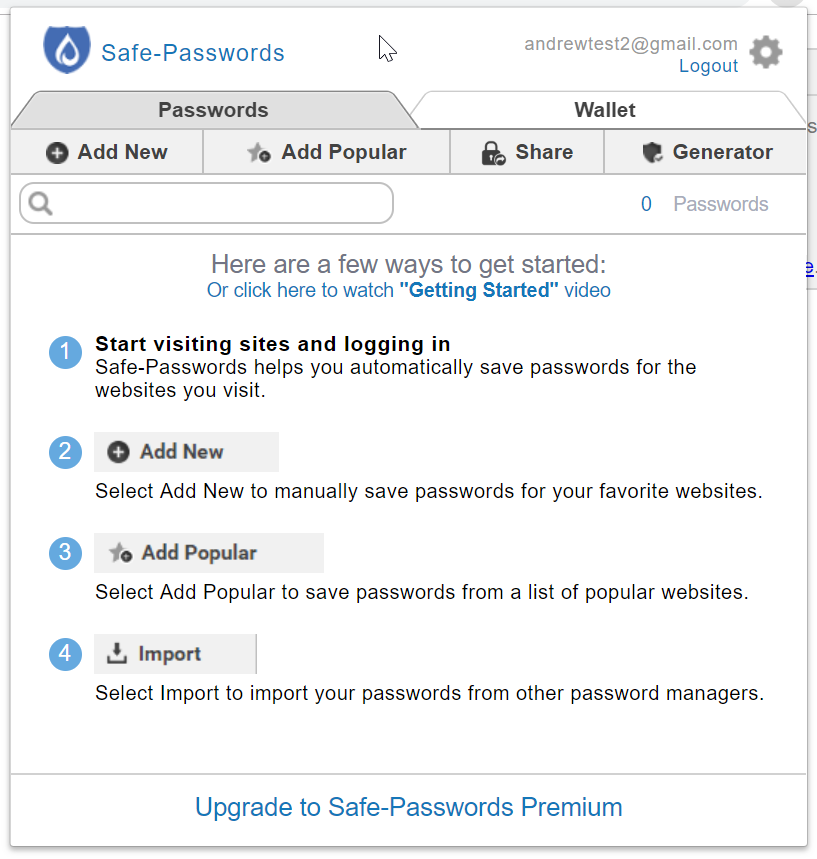 Time to get started adding your passwords.
Click here to see a getting started video showing you exactly how easy it to start adding passwords to your account. Or click on any of the 1 – 4 options for adding passwords shown on the screen above.
Remember your OneSafe PC Cleaner subscription includes the use of Safe-Passwords Premium.  Click on the link "Upgrade to Safe-Passwords Premium"
Safe-Passwords Premium will be unlocked using the same license key you used to register OneSafe PC Cleaner.   On the message below click "Click here" link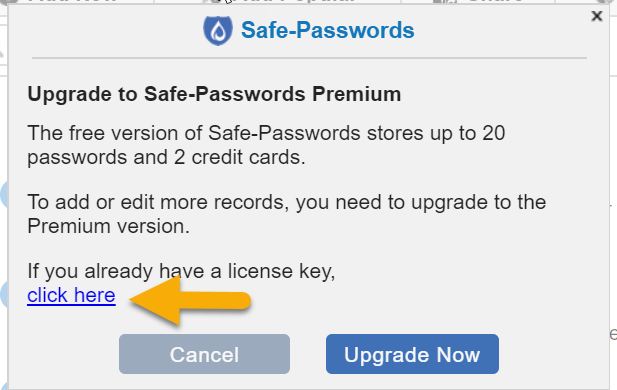 Now you will want to cut and paste your OneSafe PC Cleaner license key from your confirmation email into the field shown below and click Next.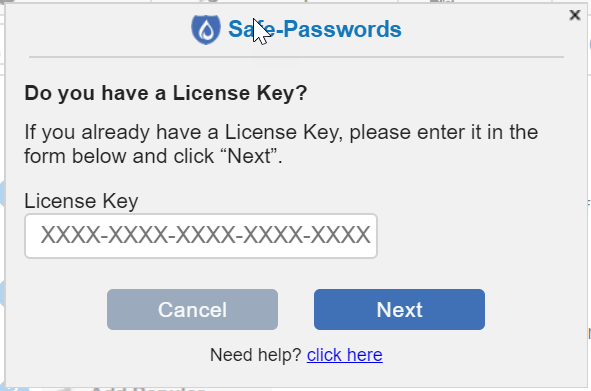 Now you have successfully registered your Safe-Passwords Premium account and you will be able to store an unlimited number of passwords and credit cards.
We hope you will enjoy the security of using Safe-Passwords to manage all of your passwords moving forward.