Are you finding that your computer is becoming increasingly slow? Is it taking forever to load at start-up? Do you feel like it's being overrun by unnecessary files or even viruses? Then it's time to take action!
A PC is just like a car: if you don't maintain it regularly, you can't expect it to last forever. The longer you wait, the more problems will accumulate and the less likely you'll be able to get your PC's performance levels back to what they were when it was new.
But you don't need to be a computer buff to tend to your PC's ailments! Here is a series of simple-to-follow steps that will help you save valuable seconds on a daily basis.
1 Uninstall programs that you no longer use
While it may seem obvious, many of us forget to delete programs that we no longer use. The first step is to permanently delete these unnecessary programs or malware installed without your knowledge.
How do you recognize malware? As soon as you come across a suspicious software name or one that you are unfamiliar with, do a simple search on Google to find out who published it. To uninstall these programs, navigate to Control Panel > Programs and Features > Uninstall.
Choose an automatic solution
Software allows you to easily manage the programs you'd like to enable or disable at start-up. To ensure you don't delete programs and later regret doing so, a piece of software like OneSafe PC Cleaner provides you with advice on what software to keep and what software to delete. Simply install the software by clicking here or download it by clicking on the button below:
2 Increase the start-up speed
If your PC takes more than 30 seconds to switch on or – worse – if you nod off waiting on your PC to start up, then something is seriously wrong!
Numerous programs have been designed to load automatically when you start your PC. While some of them – such as your antivirus – are indeed necessary for your computer to work correctly, others sometimes substantially increase the time it takes Windows to start up. The right thing to do is disable software that launches upon start-up to boost your PC's speed. There are two ways of doing this:
Use the Windows tool:
If you are using a version older than Windows 8, you can access it by navigating to: Start > Run > msconfig > Start-up. If you are using Windows 8 / 8.1, start the Task Manager and then go to the Start-up tab.
Use OneSafe PC Cleaner:
OneSafe PC Cleaner is a solution that has been certified by Microsoft, is far more comprehensive and is much easier to use. Simply install the software by clicking here or download it by clicking on the button below:
From the Cleaning interface, you automatically access all the programs that launch at start-up. You can enable or disable software with just a single click and complete security. Once this list has been managed, the ensuing result is impressive! You will notice the difference the next time you start up.
3 Delete the remaining files
The remaining files are left behind by the software or programs you've uninstalled, or are photos or videos that have been duplicated by mistake. They are numerous, are sometimes inaccessible to inexperienced users and hide in multiple folders on Windows!
While this cleaning process can indeed be tedious, it is essential if you are to free up memory space and increase your PC's speed. To make the job easier for you, it is advisable that you use cleaning software. TheOneSafe PC Cleaner software installs in just a few quick clicks, then searches for and securely deletes all the remaining files for you. To install it, click here
And finally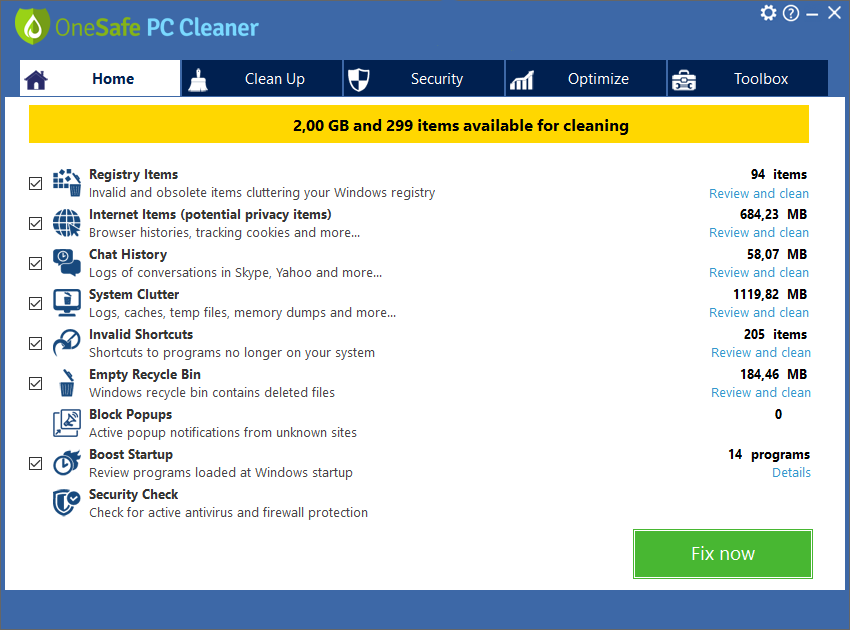 If you don't have the time or the technical knowledge to take care of your PC, choose an automatic solution. Let a piece of cleaning and Windows optimization software such as OneSafe PC Cleaner do the work for you. The free version allows you to :
Review the PC's performance
Detect unnecessary files to clean up
Check your PC's security status
You can download the free version here or by clicking on the button below to then benefit from the full version of the software from $3 per month only if you'd like.